The Trustees of Reservations Rocky Woods Reservation
With more than 490 acres, several ponds, and nearly 6.5 miles of sometimes hilly trails, the Rocky Woods Reservation provides considerable opportunities for hikes among various woodland species.

Immediately across Hartford Street from the entrance to Rocky Woods is the Trustees' Fork Factory Brook Reservation with a further 135 acres and 1.5 miles of trails. A key feature here is a large field, now farmed for hay, which draws Eastern Bluebirds and several other species who prefer open space. Various raptors are often found seeking both small mammals and birds which inhabit these fields.

On a negative note, mountain biking, horseback riding, and dog-walking are permitted at TToR Reservations; these activities can create localized disturbances which limit birding.

A nominal admission fee, covering both facilities, is charged to those who are not members of The Trustees of Reservations.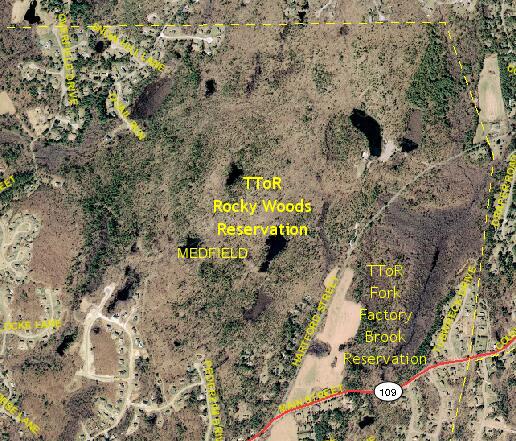 DIRECTIONS: From I-95, take exit 16B and follow Route 109 west for 5.7 mi. through Westwood and into Medfield. Take right hairpin turn onto Hartford Street in Medfield. Follow for 0.6 mi. to The Trustees' Rocky Woods Reservation. From intersection of Routes 27 and 109 in Medfield, take Route 109 east. Bear left onto Hartford Street and follow for 0.6 mi. to Rocky Woods.