Millenium Park
The former Gardner Street Landfill has now become Millenium Park. As is usually the case in the early years of a landfill turned park, it is basically small hills, generally devoid of trees, with a variety of footpaths and bike trails. Immediately adjacent to the Charles River, it overlooks the MDC's Cutler Park to its south and west while Newton's Nahanton Park is a short distance to the northwest, reachable via a connecting trail along the Charles.

The Brookline Bird Club schedules occasional trips to this site, usually in conjunction with visits to Nahanton Park. The open grassy areas are fairly popular with several species of sparrows including Song, Swamp, White-throated, Savannah, Lincoln's, and Juncos.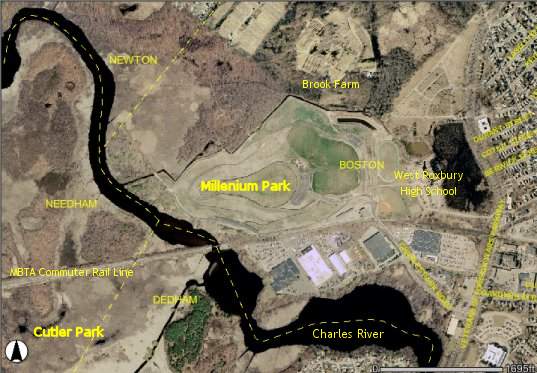 DIRECTIONS: From I-95 (SR-128), take SR-109 East, Exit 16A, to its end at the Boston line. Turn left at the traffic lights onto the the Veterans of Foreign Wars Parkway northbound. Having passed under the Commuter Rail line (Home Depot on the left), make a U-turn at your earliest opportunity; the park is reached from the Southbound lanes of VFW Parkway. Look for the entrance to West Roxbury High School just prior to reaching the Commuter Rail underpass.