Great Pond
This body of water is a reservoir for the towns of Braintree, Holbrook and Randolph. It lies roughly half in Braintree and half in Randolph. The Randolph part is shallower and there are flats that expose during drought and low water times. Thus most of the shore and sitting/loafing birds are actually in Randolph while the flocks of diving ducks are usually on the Braintree side. In the photograph below, one can clearly distinguish between the shallower southern portion and the deeper northen area, separated by a dike.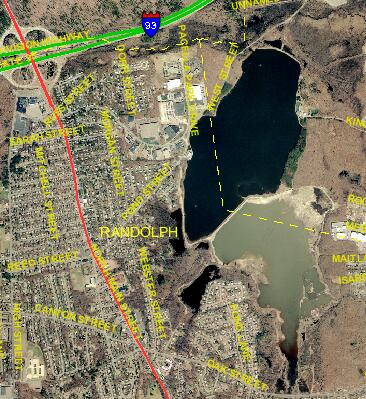 DIRECTIONS: take Rt 28 S from I-93 in Quincy/Randolph. Follow about 1.5 miles until Oak Street comes in from the left. This will be after an IHOP and a fire station and there is a Friendlies on the opposite corner. At the lights, turn left onto Oak Street. Quickly, there are two lefts. Take the second left which is Norraway Road. Slowly drive to the end and park accross from the last house.
Take a scope. Walk to the end of the pavement and continue onto the trail(s). Follow the main trail and continue until you come to a "T". Turn left and follow to the dike. From there one commands a view of just about the entire pond. (The only area that can not be seen is the area off of Oak Street, but that can easily be scoped from Oak Street).