MAS/MDC Bluehills Trailside Museum and Reservation
The Trailside Museum is operated by the Massachusetts Audubon Society for the MDC and provides one of the major gateways to the 7,000 acre Blue Hills Reservation and its more than 125 miles of trails. The heavily wooded and hilly terrain of the reservation offers a variety of woodland species. The area surrounding the Blue Hills Observatory, at the 620 foot summit of Great Blue Hill offers wonderful panoramic view of the South Metro area and may provide views of migrating raptors under certain conditions.

Nearby Fowl Meadow is a large Neponset River marsh in Dedham and Canton through which Amtrak's Northeast Corridor passes. While most of the area is inaccessible to the public, portions of the Canton side can be reached by walking along a dike from the Neponset Valley Parkway.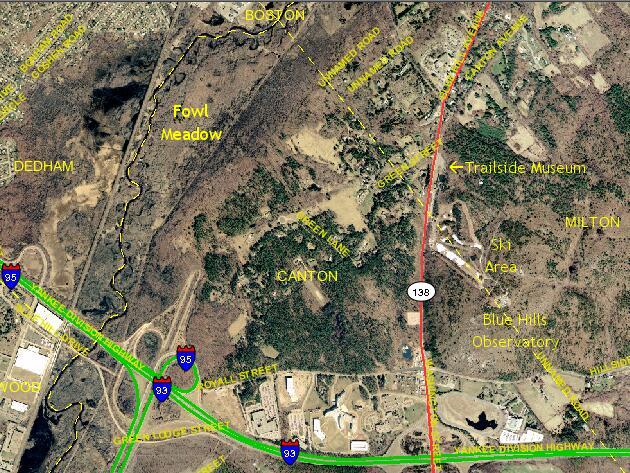 DIRECTIONS: Exit 2B from I-93, Northbound on SR 138. Straight through first traffic light, past Ski Area entrance. Parking for Trailside Museum is on the right. To reach the Fowl Meadow Dike, continue past the Museum, forking right before the traffic signal, following the signs for Brush Hill Road. The Dike Path begins adjacent to the intersection of Brush Hill Road and the Neponset Valley Parkway.